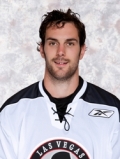 Wait?  What?  Oh, JAMIE Bates.  It's Jamie Bates.  It's not Kathy Bates.  Sorry if I got your hopes up.
Well, I still might.  Here's the scoop on Jamie Bates.  He's a 6'3 forward.  He began the day as a member of the San Antonio Rampage.  And he's ending the day as a Milwaukee Admiral, playing in the game against Houston.
Released from his PTO with the Rampage after 15 games and six points, Bates played most of the first half of the season with the Las Vegas Wranglers of the ECHL.  12 goals and 19 assists in 23 games led to his PTO with San Antonio.
Don't read too much into the fact that the Admirals will be playing the Rampage a couple of times this week.  Coach Lambert has gone on record saying that former players don't really have too many tales to tell about their former teams that the coaches don't already know about.  But with Klasen on the shelf, it sounds like a case of being in the right place in the right time for Bates.