While there has been no official press release, I feel confident reporting that there are a couple more guys that have been signed to AHL deals.
Why am I confident?
On the Predators training camp roster, they note players "Attending camp on an AHL contract with Milwaukee" with an asterisk.   And there are some names with asterisks you may not recognize.  So let's meet them now.  They have some…interesting stories.
Player #1:  Forward Vinny Saponari, who is actually participating in Preds rookie camp this weekend.  Originally a 4th round selection of the Atlanta Thrashers, he played played college in, wouldn't you guess it….Boston!
Two schools in the Boston, in fact.
Two schools because he was kicked off of the team for the first one.
From a Boston.com news article in 2010…
The Boston University men's hockey team has dismissed both Vinny and Victor Saponari from the team and suspended Corey Trivino, according to a school press release issued on Tuesday. "Over a period of time, there have been cumulative instances in which Victor and Vinny Saponari have displayed conduct unbecoming of a Boston University hockey player," Terriers coach Jack Parker said in the release."
Ouch.  So Vinny and his brother didn't get the "boys will be boys" ruling they were hoping for.
So Vinny.  It was just a silly misunderstanding, right?
"There was a drinking rule that was broken earlier during the year, and then I was late to a bike ride, and that was pretty much it really," Saponari said. "[Parker] said that he didn't feel like he wanted me on the team anymore. I didn't really have a chance to argue back or give any feedback. I didn't really have a choice. Our meeting was pretty short, didn't last very long."
I wonder if the RAP SONG he made with a teammate had anything to do with it?  It's called, "Party Like A Puck Star".  (parental guidance recommended….it's usually a family show around here on the blog….and this isn't exactly radio friendly)
So there's that elephant in the room.
The 6'1 right handed shooting forward was on the BU National Championship team his freshman year, and had 30 points (12/18) in 38 games his sophomore year before his dismissal.
So he applied to transfer to Boston College.  The board of admissions rejected his application.  Which is surprising….you'd think they'd be happy to steal a hockey guy from BU.
After playing a year in the USHL, he was admitted to Northeastern University, just around the corner from BU, where he became teammates with one Anthony Bitetto.  In his last game his junior season, he scored the game winning overtime goal against…..BOSTON UNIVERSITY.  Niiiiiiiiiiiiiiiice!
A senior on a bad team last year (they went 5-18-4-0), he finished second on the team in points.   St John's signed him to an ATO after the season, and here he is now in Preds rookie camp this weekend.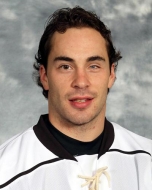 Player #2:  Barry Almeida.  He's a 5'8 forward.  A left handed shot.  And wouldn't you guess it…..a Boston guy.  Played four years at Boston College.
He almost lost hockey after a freak incident at the end of high school.  From an article in the Boston Globe….
There was a time, beginning in the summer of 2006, when Barry Almeida's young hockey career was in jeopardy.

The Springfield native, who had committed in May of that year to play for Boston College, was at a family bonfire celebrating his high school graduation when a bottle exploded and a piece of glass lodged in one of his eyes.

The injury required multiple surgeries to restore his vision. He missed much of the next season recovering, and then played the 2007-08 campaign with the USHL's Omaha Lancers before heading to BC.

Nearly six years later, Almeida is having a career year. The 23-year-old left wing heads into tomorrow night's Beanpot championship game against Boston University with 17 goals – more than twice his output from last year.
In his senior year, he finished second on the team in goals with 22, and third in points, as BC won the National Championship.
Undrafted, he signed an ATO contract with the Hershey Bears after the BC season was done.  And then last year, he split time between Hershey and Reading in the ECHL, participating in their run to the Kelly Cup championship.
So depending on how things go in camp, he may be a Milwaukee guy or he might be a Cincy guy.  We'll see.