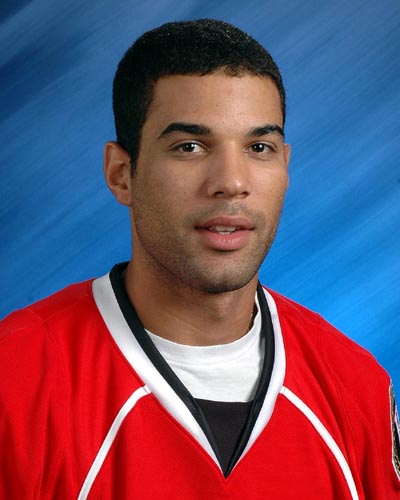 After the game in Rosemont on Saturday, Coach Evason said regarding the goaltending situation, "With three in three coming up we need to look for a more veteran type of guy that can help us out."
Jeremy Smith is injured.  Andrew D'Agostini was released.  And now Joel Martin has been signed to a PTO.
How much of a veteran is he?
He played his first pro game in the 2003-04 season.  (that was a good year, wasn't it?)
395 regular season games later, the 30 year old goaltender from Fort Worth, Texas is now a Milwaukee Admiral.  For the second time, actually.  He signed a PTO with the Admirals back in December of 2008 prior to a game against the Griffins in Grand Rapids.  I don't recall the circumstances for sure, but this may have been when Drew MacIntyre left the road trip for the birth of a child, and the Admirals needed a body to operate the bench door.  Martin was released after his one game on 12/20, and then a line of Kyle Gajewski, Ryan Ludzik, and Scott Fankhouser followed.
Martin last played in the AHL in the 2010-11 season as a member of the Bridgeport Sound Tigers.  But his counting stats weren't anything to write home about… 2-12-2 with a 3.54 GAA.
The next season he went overseas to play in Europe, and he's been a steady hand in the ECHL this season.   And by steady, I mean he's the hockey equivalent of an "innings-eating pitcher" in baseball.  The guy led the ECHL in appearances and minutes BY FAR.
For the Kalamazoo Wings, he appeared in a whopping 63 of their 72 games, which is 14 more than the guy in second place (Joe Fallon, from Las Vegas).  He logged 3,739 minutes of ice time, which is 843 more than Fallon.
He even played three games in three days on seven separate occasions this season,  with a record of  13-5-2 in those games (he had a no-decision in one of them).
So coming into this three in three weekend, the last thing you can say about Martin is that he's coming in cold due to a lack of work.
With that large a sample size, it's not surprising that he led the ECHL in wins.  But he also finished 3rd in save percentage on a team that finished four points out of the final playoff spot.
So Martin's epic season presses on in Milwaukee.  After that workload in the ECHL, we'll see how much is left in the tank.  Figure he'll get one of the games in Charlotte this weekend?